NY lifts most COVID restrictions effective 6/15/21
Healthcare settings, including chiropractic offices,  must continue to use face masks
Governor Cuomo has announced today that New York has hit a 70% adult vaccination rate. This means that effective immediately the social and commercial restrictions are lifted on all industries, including sports & recreation, construction, manufacturing, trade, child care, camps, food services, offices, real estate, buildings, agriculture, fishing, forestry, amusement & family entertainment, personal care services, gyms, retail, malls and movie theaters.
The Governor noted that the CDC federal mask mandate remains in effect for pre-K-12 schools, public transit, and healthcare settings.
As everyone is aware,  New York State has previously adopted the updated CDC guidelines regarding the use of face masks.  Per the CDC guidelines regarding healthcare settings, the use of masks in your practice for both vaccinated and unvaccinated individuals is mandatory.   
Continued use of face masks is required by New York State in your chiropractic practice.
Linked below is a sign that can be printed out and posted in your office.
For complete information, the CDC has supplied a summary of the restrictions and recommendations Interim Public Health Recommendations for Fully Vaccinated People | CDC. Additionally, the CDC has also provided Interim Infection Prevention and Control Recommendations for Healthcare Personnel During the Coronavirus Disease 2019 (COVID-19) Pandemic.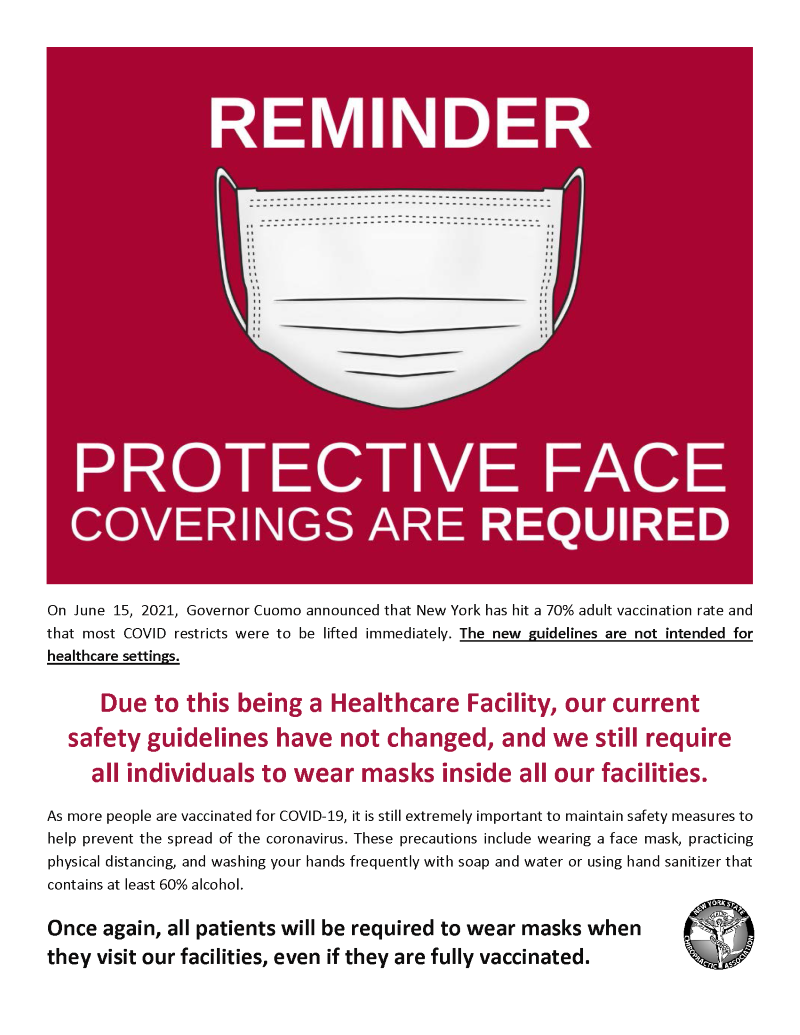 Share this post:
The NYSCA will continue to monitor the information as it occurs and will update members on a timely basis.
Share this post: